50 Years of Supporting Healthier Communities
In honor of our 50th year of service, we brought together our network of more than 5,000 population professionals together to connect, learn, and collaborate throughout 2019.
Join our network of population health leaders and get access to a variety of opportunities to connect:
Webinars
Video content
Networking events
Articles
Infographics
Reports and more!
50 Years of Strong Partnerships
2019 marked the 50th anniversary year of Heluna Health and the important role we play with our partners in providing a strong foundation for breakthroughs that lead to improving lives in the communities we serve.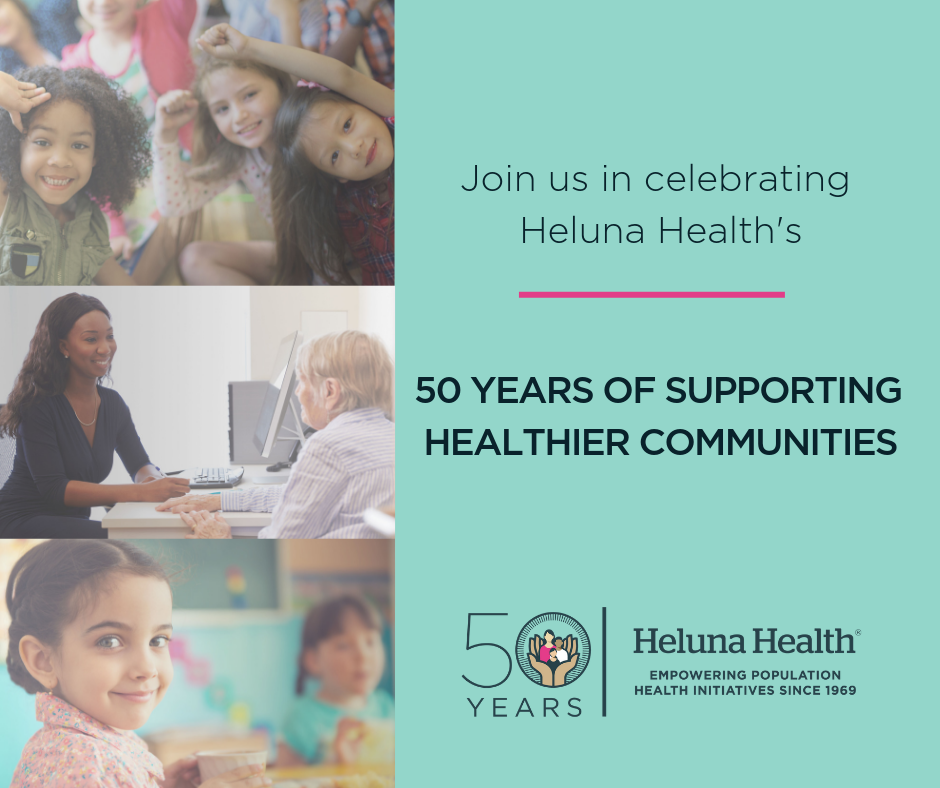 50 Years of Progress at Heluna Health
Since 1969, partnership and collaboration have been at the root of everything we do.
50 Years of Highlights in Population Health
We're proud of the milestones we've achieved through our collective work.
Watch our Public-Private Partnerships Panel Event
To unofficially kick off our anniversary year in November 2018, we brought leading thinkers and doers together at the APHA Annual Meeting to explore the key elements of successful partnerships that can lead to Improved health outcomes at scale. Dr. Blayne Cutler, Heluna Health's President and CEO sat down with Dr. Soma Stout, Vice President at Institute for Healthcare Improvement (IHI) and Executive Lead of the 100 Million Healthier Lives movement, Patrick McGovern, Vice President of Government Affairs at Gilead Sciences, Inc., Vivian Vasallo, Partnerships and Innovation Director at Fannie Mae, and Jake Segal, Vice President of Advisory Services at Social Finance to get perspectives from across the field.
Featured Partner Initiative: Stopping Diabetes In Its Tracks
A cross-sector coalition with Pomona Valley Hospital Medical Center, Community Translational Research Center (CTRI), ParkTree Community Health Center, Heluna Health, UniHealth Foundation, and Claremont Graduate University is reaching people in their communities to conquer diabetes.